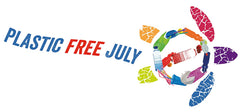 Have you heard of "Plastic Free July?" It's a challenge to reduce your consumption of single-use plastics in July and beyond! What began with just a few participants in Australia back in 2011, has grown to over 2 million people from 159 countries that are choosing to be part of their annual Plastic Free July challenge! To get you started, the main items to "choose to refuse" are shopping bags, bottled water, straws, takeaway containers and coffee cups. You can register at, plasticfreejuly.org and challenge your friends and family.
Here's the really exciting part.....
In honor of Plastic Free July, we have some announcements to share with you (if you follow us on Instagram you may have already heard the news)! Fire Lake Soapery is completely phasing out single-use plastic to become a plastic-free, clean living company! For example, we've traded our plastic lip-balm containers for ones that are 100% compostable! And they are so rad! We believe every business needs to be responsible for the waste they produce, and we'd love to help you in your efforts to live with less waste.
Here's to a cleaner, healthier, more beautiful earth for you and generations to come!
Get Dirty & Live Clean,
Jaclyn
co-owner of FLS